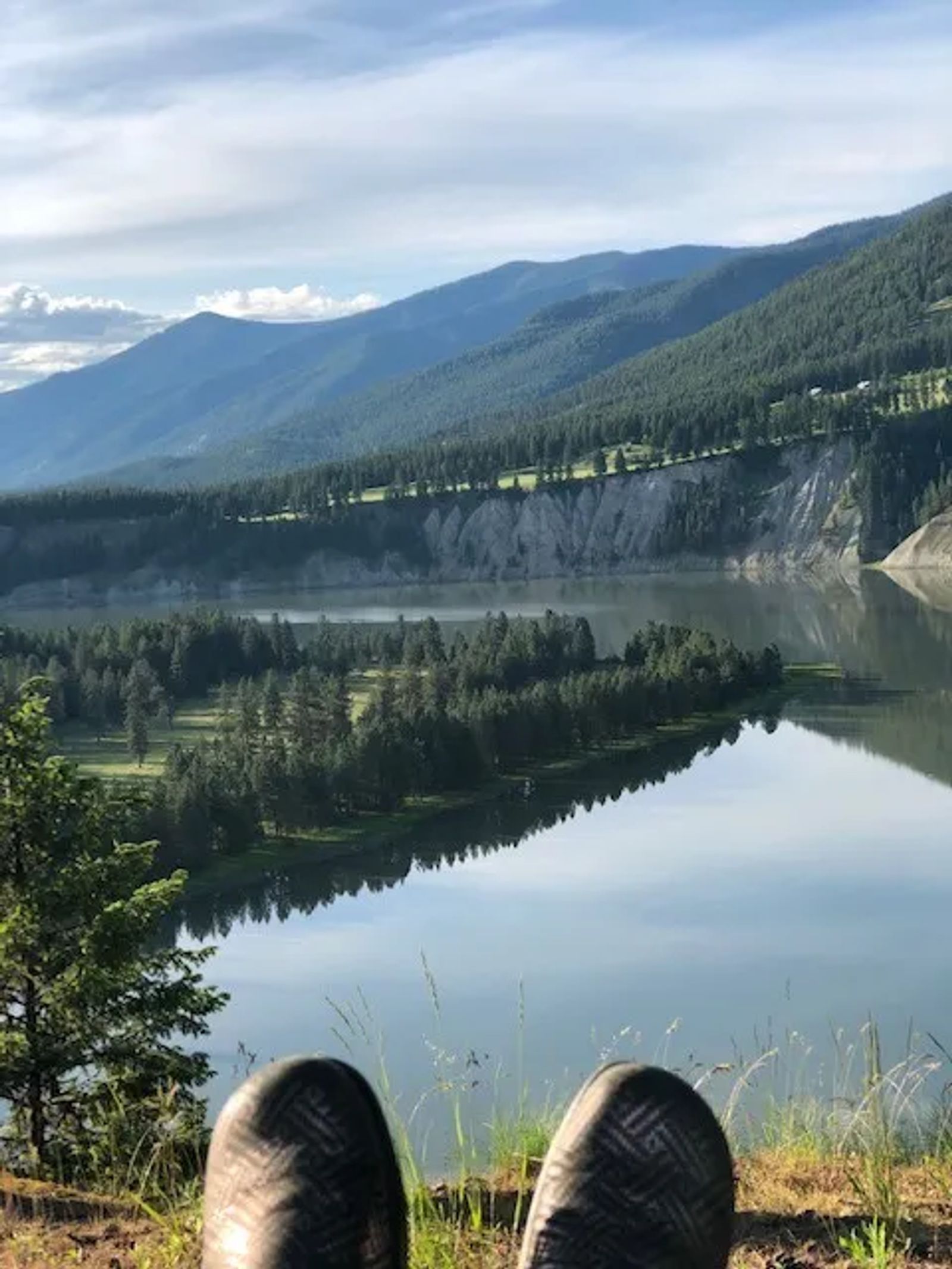 MONTANA WELLNESS Rentals
Cougar Trail Lodge
In the Northwest corner of the Big Sky State is Sanders County; well known for its reservoirs and mountains along the Clark Fork of the Columbia River. West of the town of Thompson Falls the Blue Slide Road follows the river downstream to a scenic landmark of natural color called the Blue Slide. This geological feature stands 500 vertical feet from the shore to the meadow and mountains near a sweeping bend of river. Sitting with your morning coffee wrapped in the beauty and serenity makes it hard to get up and going to all of the adventures that wait right out your back door.
These adventures include forestry trail hiking into mountain lakes were you might discover waterfalls along the way. Not to mention what type of wildlife you might see. We have deer, mountain sheep, elk, moose and bear that make this area their home. If you like to mountain bike there are numerous forestry roads and trails for beautiful scenic rides. We provide a kayak for paddling or fishing on the expansive Clark Fork River. This area is home to one of the biggest bass fishing tournaments in the western part of Montana. We also have available, for an extra daily cost, a pontoon and/or bass boat. We are also only five miles away from white, sandy beaches, which is perfect for families with kids.
AMENITIES
3 bedrooms, 2 bathrooms
Beautiful modern/rustic house overlooking the river, truly breath taking views everywhere you look. If you're looking for a piece of paradise and to be secluded in beautiful Montana you have found you place.
Enjoy hiking, boating, fishing, huckleberry picking and great outdoor adventures!
Free WiFi, complimentary toiletries.
The Location
Outdoor Recreation
Boating and Kayaking only minutes from property on the Clark Fork River with sandy beaches, golf course and State park river trail which is a 4 mile path all along the beautiful Clark Fork river. Endless hiking trails with in minutes along with the scenic views of the Thompson Falls golf course. If wanting to venture out to explore Sandpoint and Coeur d'Alene it is a gorgeous 90 mile drive to Sandpoint and another 30 miles to Coeur d'Alene. Kalispell is an approximately 100 miles South West and another 30 to Glacier Park.
Attractions
National Bison Range, GlacierPark, Lake Coeur d'Alene and Lake Pondera, and Quinns hot springs.
Airports
Glacier Park International Airport, Missoula International Airport.
OUR VISION
WALK AWAY HEALTHIER AND HAPPIER
Hit the reset button while you stay out our gorgeous retreat homes. The amazing locations and picturesque scenery will help you catch your breath. Let the mountains of Montana rejuvenate you mentally, physically, and spiritually.